Home > Public Works > Sanitation > Transfer Station
Transfer Station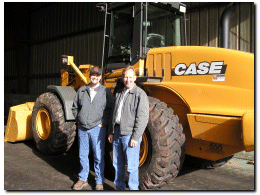 Supervisor: Phillip Morris
Sanitation Dept Phone:
270-762-0380
Transfer Station Phone:
270-489-2584
The Murray Transfer Station is responsible for the disposal of solid waste generated by the citizens of Calloway County. Refuse is hauled to an off-site landfill by a third party contractor. Refuse is not deposited here in Calloway County.
The Transfer Station is located off of Hwy. 80 West of Murray. Hours of operation are Monday through Friday from 8:00 a.m. to 4:00 p.m. and Saturday from 8:00 a.m. to 12:00 p.m. Any questions regarding the transfer station can be directed to the Sanitation Department at 270-762-0380 or directly to the Transfer Station at 270-489-2584.
Transfer Station FAQs
Q. What are the hours of operation for the Murray Transfer Station?
A. 8:00-4:00, Mon-Fri, 8:00-12:00 Saturday, Closed Sunday and City holidays; open day after Thanksgiving.
Q. How can I get to the transfer station?
A. Seven miles out of Murray on Highway 80 West to Potts Road. Turn right (north) onto Potts Road, and go 0.1 mile to Landfill Road.
Q. How much does it cost?
A. $45.75 per ton. There is a minimum charge of $6.00 without a city sticker and a
minimum of $3.00 with a city sticker.
Q. What will you not take?
A. Whole tires, batteries, liquids (paint, chemicals, etc), air conditioners, refrigerators, freezers, and hazardous waste.
Q. What do you recycle and where do I take it?
A. See the recycling webpage.
Q. Will you take brush and yard waste?
A. Yes. There are also annual curbside brush and leaf pickup dates scheduled at staggered intervals across the city. See the Street Department page for more information.