Home > Public Works > Sanitation
Sanitation
Street and Solid Waste Manger: Ron Allbritten
Sanitation Department Phone: 270-762-0380
Welcome to the Sanitation Department website. The City of Murray employs 10 full-time staff in the sanitation department. The City also has 3 sanitation trucks to provide curbside service to residents living in the Murray City Limits.
The Sanitation Department furnishes residential customers with a 96-gallon, covered, wheeled container that must be placed at the curb on the designated pick-up day. Exemptions are made for elderly and handicapped residents. Smaller containers are available for senior citizens who live alone, allowing them to pay a reduced rate. An extra 96-gallon container is available for an additional $10.00 per month.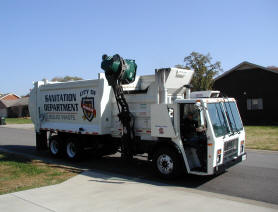 Residential or commercial customers with inquiries about large containers and rates can contact the Sanitation (solid waste) Division at 270-762-0380.
Construction "roll-off" containers up to 30 cubic yards are available. Dumpsters measuring 2,3,4 or 6 cubic yards are also available. Rates are customized based on volume and frequency of pickup for commercial customers.
Quick Facts
Monthly Residential Rate: $15.00
Cost per ton: $45.75
Smallest container available: 96 gallon (0.45 cu yd)
Largest container available: 30 cu yd
Rates are subject to change, please contact the Sanitation Dept at (270) 762-0380