Home > Public Works > Natural Gas > Seasonal Safety
Seasonal Safety
Murray Natural Gas would like to take this opportunity to remind our customers that this is a good time to have your gas heating checked for the season. Any licensed and insured gas merchant can perform a seasonal check to make sure your gas furnace, gas logs, and gas heaters are in good operating condition or can make any necessary repairs. As a reminder, if any gas appliance has to be replaced, an inspection is required by our office. The gas merchant will call to make the appointment for the inspection and will need to be present at the inspection.
If you are considering adding a natural gas powered generator, please contact Murray Natural Gas. An inspector will come out and talk to you about the location of the generator and determine the size of line and meter that will be required. Some large generators may require a gas meter larger than a house gas meter and a meter fee may be required. Also, the natural gas merchant installing the generator is required call our office before beginning any work to check on codes about natural gas generator installation. Any out of town gas merchants will need to provide our office with a copy of their state HVAC license as well as a certificate of liability insurance.
Murray Natural gas wants all our customers to have a safe heating season. If you have any questions about gas merchants, gas codes or general questions about natural gas, please call our office at 270-762-0336. Listed below is a list of licensed gas merchants.
Licensed Gas Merchants
Only a licensed gas merchant shall perform installation and replacement of gas piping, gas equipment, or accessories, and repair and servicing of equipment. The term "LICENSED GAS MERCHANT" means any individual, firm, corporation, or company which, either in person or through a representative, is engaged in and is responsible for the installation or replacement of gas piping or the connection, installation, repair, or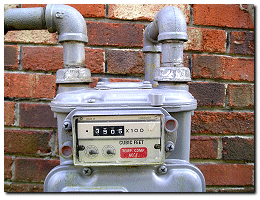 servicing of equipment. This person is experienced in such work, is familiar with all precautions required, and has complied with all the requirements of the authority having jurisdiction. Utilization of a firm or individual for repair work or installation of gas appliances other than a licensed gas merchant IS IN VIOLATION OF THE CITY OF MURRAY ORDINANCE NO. 424 AND COULD RESULT IN DISCONTINUANCE OF GAS SERVICE TO YOUR RESIDENCE OR BUSINESS.
Sniff Test
Sniff test pamphlets available at City Hall
Sniff test pamphlets will also be mailed at a future billing
The Murray Natural Gas System is encouraging its customers to conduct a SNIFF TEST. The free booklet available at City Hall contains a sniff test as well as the instructions on how to handle natural gas properly.
We feel that our customers should be aware of the odorant that is in natural gas, and should know some facts about it: 1) Natural gas is neither toxic or poisonous; 2) Natural gas is lighter than air and it will rise and diffuse rapidly when it escapes in an open area; and 3) Most natural gas is odorless in its natural state; therefore an odorant is usually added to give it a distinctive odor.
Natural gas is the safest, most dependable fuel known to man. Gas appliances, equipment, and transmission lines are safe and are constantly being tested and improved. However, it is possible, through misuse or by accident, to have a gas leak. It is important that you know what to do. This distinctive odor has been added to natural gas so that less than 1% of gas in the air can be detected. Please take a few minutes of your time read the pamphlet and conduct the SNIFF TEST.
Call Before You Dig
Murray Natural Gas is a participating member of the Kentucky Underground Protection System. Kentucky law requires contractors and private property owners to call the B.U.D. Center at 1-800-752-6007 or 811 two working days prior to digging.
We urge everyone to prepare for a warm and safe winter by having your heating equipment inspected. We hope to serve you in the most efficient and economical way possible, but good maintenance habits are everyone's responsibility.
Gas Merchant List
This is not a complete listing. If you choose a merchant not on this list, call our office to see if we have paperwork from them required by the City of Murray and Murray Natural Gas.
ADCO, Inc.
Murray, KY 42071
270-753-0130
Mayfield, KY 42066
270-247-9900
Adams Heat &amp Air
1 Cardinal Rd.
Mayfield, Ky 42066
270-247-7530
Carter Service
Murray, KY 42071
270-759-4720
Phillip Carter
D&E Heating and Cooling
Murray, KY 42071
270-293-7227
Darren Parker
Discount Heating AC & Ref
372 Beard Dr.
New Concord, KY 42076
270-436-2991
Donald Watkins
Jamie Vance Heating & Cooling
520 S. 4th St.
Murray, KY 42071
270-753-0112
Jamie Vance
Jim McBee Heating & Air
1209 Center Dr.
Murray, KY 42071
270-759-1457
Jim McBee
Steele & Allbritten
209 S. 3rd Street
Murray, KY 42071
270-753-5341

Scott Heating & Air
270-293-8251
Ricky Scott
James Smith
11000 St. Rt. 80 W.
Fancy Farm, KY 42039
270-623-6190
270-210-0906
Randy Thornton Heating & Air
802 Chestnut Street
Murray, KY 42071
270-753-8181